Succo di Miso Ceci e Farro 200 ml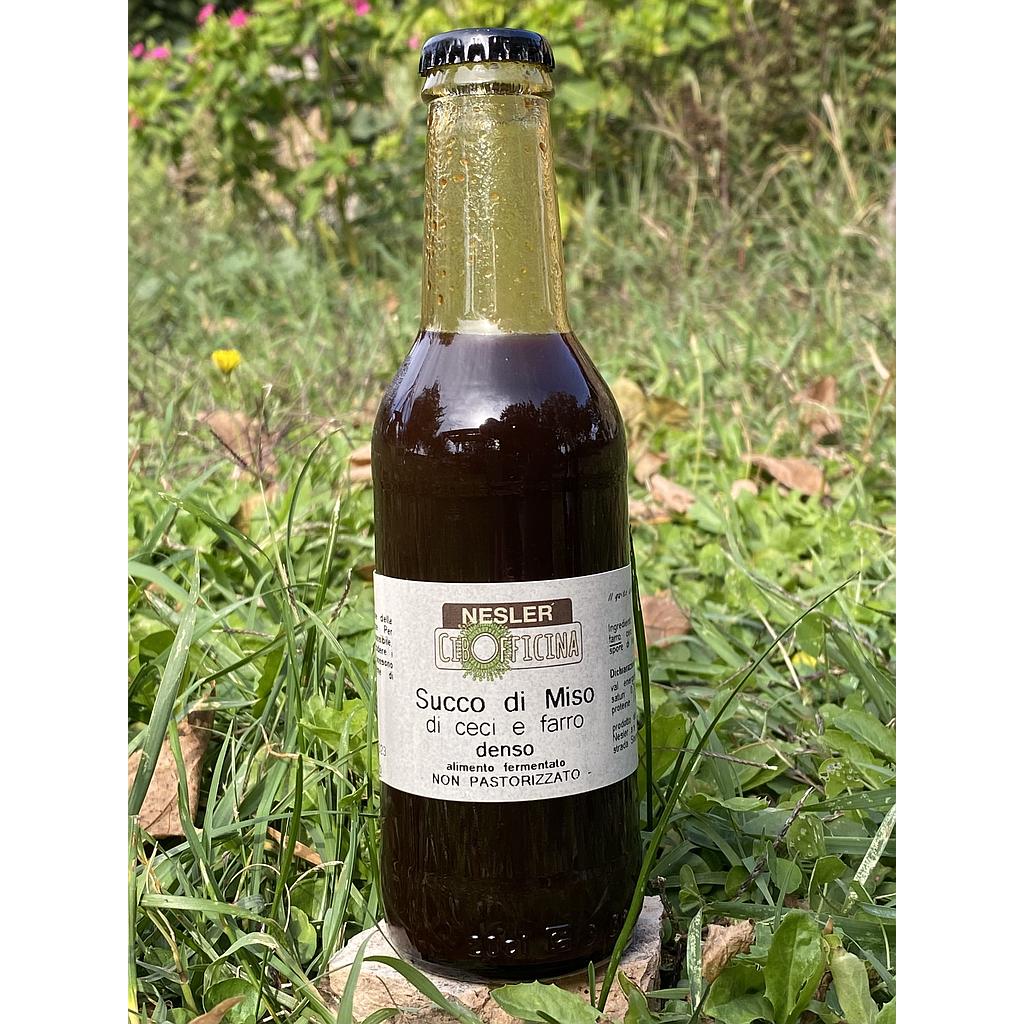 Succo di Miso Ceci e Farro 200 ml
Real Miso-Tamari, a rarity.
Succo di Miso Ceci e Farro 

Tamari or damari in Japanese means a liquid extracted from something, a sauce, in the sense of the juice coming out of something. Our "Miso Juice" refers to this expression, which today is often used in the West in an unscrupulous way to indicate various types of soy sauce. Our Succo di Miso (Miso Juice) would be, to put it in Japanese terms, a Miso-Tamari.
The maturation of miso leads to the separation of a small part of liquid that has an aroma that is very reminiscent of miso itself, but with a liquid consistency. Obviously the quantity we can produce is extremely small, but we are happy to offer such a gem to enthusiasts..
We present it in two forms, one more dense and one more liquid (called normal).
(Possibly) DO NOT COOK! The live ferments contained in unpasteurised Miso-Tamari are killed by very high temperatures, so add preferably cold.
If you like, take a look at the recipes section, curated by Giulia Pieri, to get inspired.
Store in a cool place.
Ingredients: emmer, chickpea, whole sea salt, water, spores of Aspergillus oryzae
Nutritional information per 100 g (in grams):
Energy: 199 kcal; fats: 6,01 g; saturated fats: 1,14 g; carbohydrates: 26,47 g; sugars: 6,2 g; proteins: 11,69 g; salt: 9,57 g.
Produced by:
Nesler società semplice agricola
strada Sterpaio snc
Viterbo (VT)
Miso is a seasoning agent of Asian origin. In the Eastern tradition it is made with soy, usually combined with a cereal. It can mature for a few weeks or several years. It is one of the richest foods in the world of "UMAMI", the so-called fifth taste. The other basic flavours are sweet, salty, bitter and sour. In addition to this, miso is rich in live microorganisms of many different species.

​​The production process involves the production of Koji, a cereal fermented by inoculation with spores of Aspergillus oryzae. This first fermentation lasts about two days and must be monitored constantly, whilst maintaining a controlled temperature and stirring and periodically airing the cereal. The Koji is then mixed with a cooked legume (in Asia mainly soy), salt and water and left to ferment until the desired degree of ripeness.
We only use local, selected and controlled raw food materials. We do not use soy, products containing GMOs or synthetic chemicals. All the ingredients used are indicated in the sheets and on the label, with no exclusion.
Our understanding of "local" takes into account the climate and the real movements we make. Furthermore, we try to work with the most conscientious farmers in the area. What we absolutely prefer is to produce raw food materials ourselves.
What is most important to us is a high level of respect for Earth and Man and high levels of quality.
We prefer quality to the abstract concept of "local", we prefer to know suppliers, we prefer to strive for quality, rather than passively accept labels. We prefer the small to the big producer and... We are realistic. The compromise is sometimes to go further, rather than to lower the quality level. Our "local" is a "relative local" that makes us use whole Sicilian salt, Tuscan peas, cereals grown in Tuscia, organic hazelnuts grown a few kilometers away, and so on.